Share presentations securely via Wi-Fi or Ethernet with the AVer AW200 4K Wireless Presentation System. One receiver and 2 transmitter pods are included enabling wireless or wired streaming of media at up to 4K resolution.
Each AVer 4K Pod has an HDMI and Mini DisplayPort™ input to support a variety of device types. Use as a standalone wireless presentation system for your conference room or plug it into your existing network for an integrated user experience!
No app required
Plug and play design doesn't need additional software or drivers for easy installation. The Pod features a single button to tap to initiate sharing.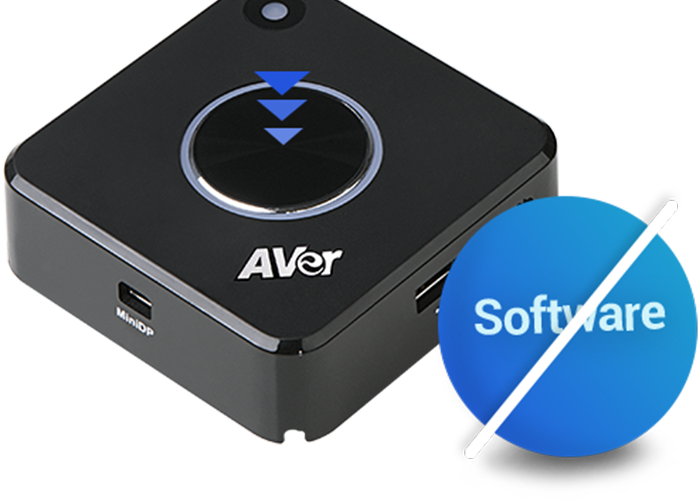 Supports Split-Screen display of up to four sources
The AW200 allows up to four input sources to share the screen simultaneously.
Just Tap & Share -The AW200 lets you share with one simple tap. No software installation is needed, which eliminates security concerns, software compatibility issues, and complicated cable configurations. When you connect smartphones, tablets, and laptops via HDMI or USB, you can transmit 5G Wi-Fi with access up to 30 meters away. Easily share important content on the display and enjoy incredible convenience, compatibility, and efficiency.
4K UHD for Presentations - Even if you're using a projector, 4K Ultra HD image quality still provides the best performance in terms of brightness, color, and resolution. Use the AW200 to clearly show text, pictures, tables, and lag-free videos in presentations that fully engage your audience.
Four-Way Split-Screen Sharing - Supporting iOS, Android™, Mac, Windows and Chrome operating systems, the AW200's powerful cross-platform compatibility allows content sharing from different devices on a single display, with up to four split screens. Whether you use it for proofreading, highlighting, or group discussion, your efficiency is maximized.
Reverse Control for Touch Panels - Too far from the stage to your seat? No problem. Reverse control lets you easily control your PC or laptop remotely, and it's especially useful when your display is a touch panel. Just use your finger as a mouse for the ultimate in efficient presenting.
| | |
| --- | --- |
| Video output | HDMI |
| Output resolution | 4K |
| Number of split screens | Up to 4 |
| Audio | HDMI |
| Wireless security | WPA / WPA2 |
| Wireless connectivity | AR200: 802.11ac, 2T2R |
|   | AP200: 802.11ac, 1T1R |
| Wireless standard | 802.11ac |
| Ethernet | 10/100/1000M, PoE supported |
| I/O ports | AR200: RJ45, USB, HDMI out |
|   | AP200: RJ45, USB, HDMI, MiniDP |
| Display control | No |
| Reverse control for touch panels | Yes (select panels) |
| Power source | AR200: DC 5V / 2A |
|   | AP200: DC 5V / 1A |
| Power consumption | Standby: 5W (approx.) |
|   | Casting: 10W (approx.) |
| Working environment | Relative humidity: ≤ 80% |
|   | Operation temperature: 0 to +40 °C and above |
|   | Storage temperature: -20 to +70 °C |
| Product dimensions (W x D x H) | AR200: 18.0 x 8.0 x 2.5 cm (without antenna) |
|   | AP200: 8.0 x 8.0 x 2.5 cm |
| Package dimensions (W x D x H) | 25.1 x 18.0 x 8.0 cm |
| Net weight | AR200: 153.0 g |
|   | AP200: 136.9 g |
| Platform support | Windows® 7 / 8 / 10 or later |
|   | macOS® X 10.9 or later |
|   | iOS 10 or later |
|   | Android™ 5.0 or later |
| Mirroring | AirPlay® & Chromecast™ |
| Warranty | 3 years |
| Package contents | AVer AR200 x 1; AVer AP200 x 2; HDMI cable (1 m cable x 1; 30 cm cable x 2 ); MiniDP cable (30 cm cable x 2); 5V universal adapter x 1; Quick Start Guide x 1 |
Recently viewed product
You can control fully on this carousel from store admin as describe in above section